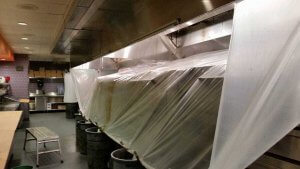 Are your hood filters getting cleaned regularly? Do you prefer to wait until your hood cleaning service does it?
First of all, know that not all hood cleaning firms clean your filters. They clean them by wiping them down, then they move to the side while they clean your hood, duct, or updraft system.
Filters are cleaned by our staff regularly, but you can't keep your system running efficiently if they're not being cleaned frequently. Neglecting to clean your filters for months can lead to a huge grease buildup, which can turn into rubbery grease.
A Terrible Example
We were going to do a hood cleaning in an Italian restaurant located in the suburbs. Our owner said that his hoods only required cleaning once or twice each year and that he never let his staff clean the filters.
Once we arrive at the site to do a hood clean, we first take down the filters and then move them to a wash area. We were shocked to see that the filters had a weight three times greater than normal when we took them out of this restaurant.
Massive amounts of grease were pushing out of the hood filters, causing them to clog. We called them grease worms because of the shape. They refused to break down when we poured hot, high-pressure water on them. It took us FOUR HOURS to clean the hood filters. We had to take a lot of these grease worms to the restaurant owner.
The filters no longer worked, so the inside of hood had a grease layer similar to what you'd find in the air duct. The grease containment system for the roof had become overwhelmed. Roof materials were severely damaged. We spent several hours cleaning up the roof.
Cleaning costs $1500 every six-months
Better Way
One of our clients, a fast-food burger chain, has asked us to clean their hoods in 27 of their shops. This client did not have its own building unlike other fast-food burger joints. They had their shops in strip malls.
They made it a rule that the restaurant kitchen was to be torn down every Thursday night and that the dining room had been cleaned after each closing. The other part was to take down all the hood filters, and then dip clean them in a sink.
The filters required only simple degreasing or polishing every time we cleaned their covers. It was also much easier to clean the ducts.
Price to clean is $400 every three-months.
Can Employees Clean Commercial Hood Filters Their Self?
Absolutely. They should be doing it once a week. A daily cleaning of commercial sinks would take 30 minutes to do a dozen filters.
Cleaning Your Hood Filters Should Be A Top Priority for Your Staff
The restaurant's first line defense is its hood filters. They help manage grease and prolong the life of its exhaust ventilation system. Without them, the building can catch fire easily and excess grease fumes or smoke could contaminate the air, which could pose serious health hazards. This is why it is so important to make sure that these vital components of the exhaust system are functioning properly.
Commercial hood filter are made from durable, high-quality materials such as stainless and galvanized steel. However, grease can build up over time. This must be removed.
Commercial hood filters may be cleaned in a commercial dishwasher by hand or in a soaker tub. Each method has its advantages and disadvantages, in terms of efficiency, time, and the final clean.
Dishwasher
If you use a commercial dishwasher to wash the filter, be sure to remove any residue. Avoid using harsh and corrosive chemicals like bleach, or other cleaners.
This method works well for quick cleaning, but requires some manual labor. It could also damage your commercial dishwasher if it is not used correctly. Use of the wrong chemicals may cause damage to commercial hood filters. They are more likely to become rusty.
Method to Soak Tank
The easiest way to clean a soak tank is not only the fastest, but it also takes the longest. You will need to fill your soaker tank with water. After that, you can place the filters inside the soak tank and let them sit overnight. The filters can then be washed briefly with water, then reinstalled the next morning.
Hand Wash Hood Filter
Hand washing is the most labor intensive, but it is the best and easiest way to ensure your commercial filters are clean.
This method involves filling a commercial kitchen with hot water. Then, add a small amount metal-safe soap to the sink. Use the degreaser to allow the filters to sit in liquid for at least 30 minutes.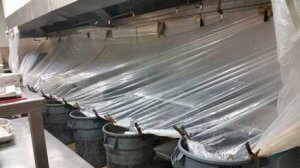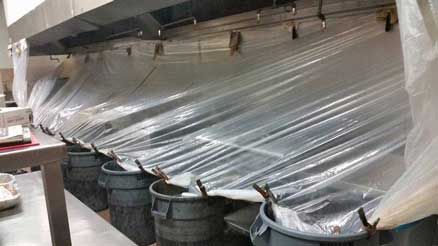 After soaking the filters in whatever liquid, you can use a sponge to scrub them off with a non-abrasive brush or sponge. You should not use bleach or other harsh chemicals for this task.
Summary
Exhaust hood systems are expensive, complex and require skilled professionals to maintain. But there are some exceptions.
Commercial hood filters make up a small part of the exhaust hood system. Employees can clean them themselves, without professional assistance.
Workers and owners cannot clean other areas, including the exhaust hood, exhaust fan, exhaust system, and exhaust duct. Experts are recommended to replace worn or damaged components of your commercial exhaust-hood system, such belts.
If a restaurant refuses to allow professional hood cleaners, it could be subject to heavy fines and even mandatory closure.
Also, clean commercial hood filters will keep your kitchen cooler. These filters won't be clogged up with grease and other residues. This is vital for employee comfort because of the high heat appliances that can work in this area for hours.
Comments: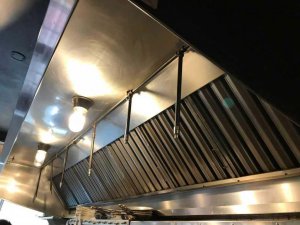 While it shouldn't take your employees more than 45 to an hour to clean your commercial exhaust hood filters, it is vital for the health and integrity of your system. Grease buildup inside commercial hood systems can lead to fires in restaurants. This is despite the fact that it can be prevented by regular, or even weekly cleaning.
You shouldn't wait to clean your commercial exhaust hood filters if they are covered in grease or other residues. You can add these essential pieces to your restaurant's daily cleaning checklist to ensure they are sparkling before every service.
"Commercial cooking areas are most vulnerable to fire due their hectic environments and multiple fire hazards.
This article will help you clean your range hood filters if you work in commercial kitchens.