Commercial Kitchen Cleaning Services
Dallas Texas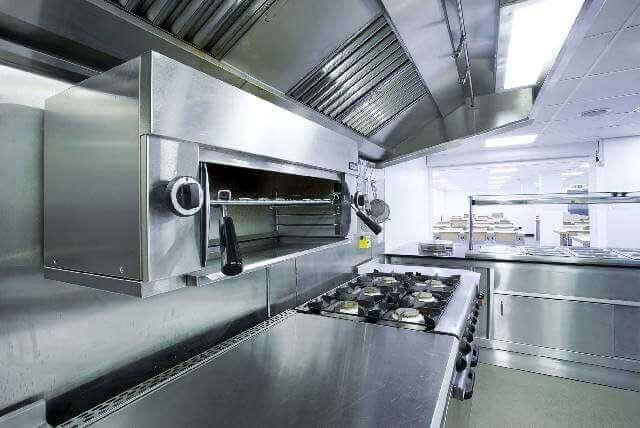 Kitchens need to be cleaned on a regular basis to prevent any bacteria from ever spreading which is harmful to your workers and customers. At Dallas TX Hood Cleaning offer a lot of solutions you are sure to find very useful. Regular commercial kitchen cleaning also prevents filth from accumulating and clogging up your appliances and causing fires.
We're ready and equipped for anything.
Some of the offerings included in our commercial kitchen cleaning package are: Servicing of resilient and non-resilient flooring (buffing, waxing & stripping incl.), scrapping of hard to reach areas, cleaning the before & after of special events, scrubbing all your kitchens appliances, vent and hood cleaning, washing and shining of countertops, sinks, and drains, cleaning refrigerators, freezers, and ice bins and removal of grease, grime, and solidified oils in all those hard to reach areas, hey your regular workers need help too. We can also take apart your kitchen equipment for deep cleaning and sanitization. Our expert team is trained to disassemble and reassemble the kitchen apparatus perfectly.
Once we're done, we'll also provide a compliance report, with before and after pictures to indicate the progress and findings that we are sure you will find useful, for example, our report will let you know all the little or big things that need fixing or replacement. Inspectors and insurance love seeing this document by the way.
With optional regular commercial kitchen cleaning services and check-ins, Dallas Texas Hood Cleaning can make your kitchen look and smell better than it has in years. Get in touch with us to find out more about our offerings and how we can be of help to you. Check out our 'About' page to know more about our company.
Dial up the best in commercial kitchen cleaning!
We're currently in possession of all the necessary tools and team members to not only get the job done but done in a faster more convenient way. Not trying to toot our own horn but we provide the best services. Just ask all our previous clients, our trained and uniformed staff are certified and insured to give you peace of mind, plus we're always innovating and using the latest cleaning technology to help save you resources and money meaning we offer the best rates too! Call us now on this number - (214) 692-2822 to plan an appointment. You can also use the contact form to get in touch, they both work just as well.
Once an appointment is made one of our representatives will come to your restaurant for a quick inspection. This part is important because it helps tailor a flexible and bespoke service that suited to your budget and individual needs.
We are licensed, bonded, certified, and fully insured for commercial kitchen cleaning in Dallas, TX.
---
Dallas TX Hood Cleaning
proudly serves Dallas, Ft. Worth area.